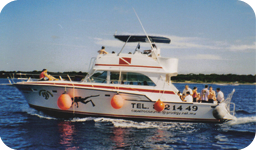 Our dive boats are comfortable and covered with plenty of space for divers and gear. Fast boats mean we get you to the dive spots in a hurry so you can spend as much time in the water as possible!
Scuba Diving Rates/Packages/Courses
Whether you want to dive for a day, a week, or more, we can accommodate your needs. We have package prices for multiple days of diving so you can get the most diving for your money. We can even arrange special excursions and we offer group rates for your dive club or shop. Below are our rates; if you don't see what you need, let us know and we'll design a package for you!
Daily Dive Trips
(11 am. and 2 pm. departures)

One Tank Dive
$ 50 per person one day
Two tank dives
$ 80 per person one day
Third dive
$ 35 per person per day
Night Dive
$ 55 per person per tank
Punta Sur/Maracaibo 2 tank dives
$ 80 per person per day
*Nitrox dives, please add $10 per tank.
Multiple Day Dive Pkgs.
for a two tank dive trip per day we have the following packages (11 am and 2 pm departures)


3 days 2 tank 1 night dive
$260.00
4 days 2 tank 1 night dive
$318.00
5 days 2 tank 1 night dive
$375.00
6 or more days 2 tank
$63.00 per day
1 night dive with 6 or more days diving package
$45 per dive
Equipment rental $10 per package
per person BCD and Regulator per day.
Rest of equipment will be included.
night dive schedule depends on sunset time the date of your choice.
NITROX DIVE RATES
1 tank dive
2 tank dive
1 Night dive
Punta sur/maracaibo

$60.00
$80.00
$60.00
$90.00

GEAR RENTAL
Beuchant/Dacor Dive Gear
BCD (per day)
Regulator (per day)
Mask, Fins, Snorkel
Wet Suit (per day)
Dive Light (per day)
BCD and reg (per 3 day pkg)
BCD and reg (per 5 day pkg)

$10.00
$10.00
$10.00
$10.00
$15.00
$15.00 per day
$10.00 per day

Scuba Courses
Includes all equipment, manuals, tables and C card fees.Instructors are current PADI, NAUI, NASDS, or CMAS members and are bilingual:
DISCOVER SCUBA
Beach dive
Additional
2 Shallow boat dives

*equipment included
*Can be applied to certification

$80
$25
$80

REFRESHER COURSE $75
1 beach dive
*equipment included

OPEN WATER CERTIFICATION $400
2 Days theory with one beach dive per day
1 Day 2 boat dives
1 Padi open water book to buy....
1 pick certification
* equipment included

REFERRAL $300
From any agency
1st day, 2 beach dives
2nd day, 2 boat dives
1 Padi open water book to buy
1 pick certification
* equipment included

ADVANCED $350
5 dives
Navigation
Deep
Night
2 choice

2 CHOICE :
Multilevel
Naturalist
Wrek Diver
Dritf Diver
Photography/
Videography
Peak Performance Bouyancy
*equipment included

RESCUE $550.00
3 DAYS 2 TANKS PER DAY
*equipment included
NITROX $350.00
Certification course is 1 day, including 2 nitrox boat dives, theory, practice, PADI cer- tification card
Nitrox Diving Information
Nitrox is an enriched oxygen mix gas used to extend the time of SCUBA diving. It reduces the risks of nitrogen narcosis or suffering from diving illness such as decompression sickness. In order to dive nitrox you have to be a certified nitrox diver. Our Nitrox certification is through PADI, but other associations provide training as well (TDI or IANTD for example). We generally use 32% 02 for dives to a maximum of 130 feet and 36% 02 for dives to a maximum of 110 feet. Other mixes are available upon request. Please e-mail us to arrange for Nitrox certification or diving.

NOTE: As of Jan. 1, 2002, National Government requires all dive shops of Cozumel, Cancun, Isla Mujeres, Contoy, etc. to collect $20.00 Mexican pesos (about US $3.00) per diver per day to be allowed to dive inside marine national park. This charge will be paid to us at time of boarding our boats or it will be added to the total amount of our package rates at the end of your dives.

We will rinse and storage your equipment and have them ready on board every day you dive.
We have 80 cf steel tanks.
We have fast boats for 6 ,8 or 10 divers.
We goes to a different dive site every day taking care of do not repeat any for our other clients.
As a private tour we will require 4 paid divers minimum paid diving profile and reef site options will be more at your choice and in agreement with the dive master guide and your level certification and skills.